Restore the function of your tooth without compromising beauty.
Repair your cracked, broken, or fractured tooth.
A crown, or "cap," is generally required when a significant portion of a tooth has been destroyed by decay, trauma, or excessive wear. Crowns can also be used for cosmetic purposes to improve your tooth's color, size, and shape.
Our dental crowns have been specifically designed to protect your damaged tooth while restoring its function. They are also used to top dental implants or to create a dental bridge. Unsightly, old-style, porcelain/metal crowns have been replaced with today's all-porcelain crowns, which look nearly identical to natural teeth. Plus, they have the added advantage of being strong and very durable.
Our expert Hadlock dentist uses modern technology to create your custom-made crowns. Dr. Ryan takes precise impressions of your tooth and works with our partner lab to create breathtaking crowns. Our results are therefore more accurate and long-lasting, enabling you to resume your normal habits and smile with confidence.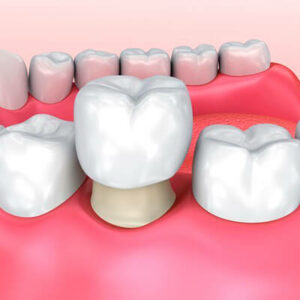 Discover how our innovative dentist in Port Hadlock can restore your tooth's function and beauty.
Our caring dentist first assesses your tooth and identifies if you are a candidate for a dental crown. If so, we take a few impressions of your teeth and review the crown procedure with you.
During the design phase, our expert team applies the specifications of your crown's size, shape, color, and fit. This information is then passed onto our dental lab, which produces the finished crown. At this stage, you may be asked to wear a temporary crown so your tooth is protected.
While at the lab, your new crown is constructed using state-of-the-art technology by a team who produces outstanding restorations. Once complete, the finished crown is returned to our practice where your dentist will assess the fit and style.
When happy with the crown, your dentist will prepare the natural teeth and place the crown. If further adjustments are needed, these are made before the crown is bonded into place. We strive to give you the best fit possible so you can enjoy the look and function of a natural smile.
I have never been so comfortable during a filling in my life. I almost fell asleep! Great place and very kind. Highly recommend for those who have dentist anxiety!

Karynna Eileen Eichmann
00:14 26 Jul 19
I took my young boy in for an emergency visit. We had no appointment, but the office was able to fit us in. All of the staff were great with my son, and the dentist in particular was wonderful with him. He was able to connect with my son and help him feel comfortable in the dentist's chair, even though he was in pain.

SIMPLE. EFFECTIVE. EFFICIENT.
Dental crowns offering function and beauty.
This common restorative dental treatment is the "royalty" of dental care. Here are a few of the benefits this reliable service can bring.
Regain your natural smile with our discreet dental crowns.